عن الربو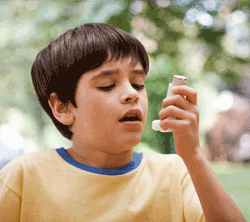 الربو الشعبي هو حاله مرضيه مزمنه تأثر على الشعب الهوائيه الصغيره في الرئه. وتتم على مرحلتين:
التهاب الشعب الهوائيه. بمعنى أبسط يكون المجرى الهوائي محمر ومنتفخ.
يجعل الإلتهاب الشعب الهوائيه حساسه بشكل مفرط لعدة عوامل "محفزه" لأعراض الربو. تلك الأعراض تكون نتيجه لضيق الشعب الهوائيه, تقلص العضلات المحيطه بالشعب الهوائيه وازدياد المخاط فيها. مما يؤدي لضيق النفس, الصفير, الكحه, زيادة المجهود التنفسي وفي بعض الأحيان الى نقص الأكسجين والفشل الرئوي.
الربو الشعبي يعد حاله مزمنه. ذلك يعني أنه حتى في حال عدم وجود أعراضه فإن الشعب الهوائيه ما تزال ملتهبه في كل الأوقات. لذلك فإن الأعراض تتكرر بتكرار التعرض للمحفزات
Asthma is a condition that affects the air passages of the lungs. It is a two-step problem:
When a person has asthma, the air passages are inflamed, which means that the airways are red and swollen.
Inflammation of the air passages makes them over extra-sensitive to a number of different things that can "trigger," or bring on, asthma symptoms. This happens through narrowing of the airways, tightening of the airway muscles (Bronchoconstriction) and excessive phlegm. Causing shortness of breath, tightness, heeze and cough. Occasionally this can result in reduced oxygenation and respiratory failure.
Asthma is a chronic condition. This means that while it often looks like it goes away for awhile, the inflammation of the air passages remains present all the time. However, in some instances, this inflammation may go unnoticed for long periods of time. As long as the air passages are inflamed, asthma can flare up at any time. This is one of the reasons that an awareness of the triggers that cause the flare-ups.
Most children outgrow their allergies, however some dont! We can predict to a certain level who is most likely to outgrow their allergy. That depends on the type of allergy and the cause.
Immunodeficiency is a state in which the human immune system is weakened or totally incapable of facing different microbes that attack it.
The child maybe unable to benefit from the protective effect of some vaccines and even develop illness or major complications with it. Immunodeficiency may be acquired, such as cases of chronic disease or medication related, or inherited in other cases.
The treatment of immunodeficiency depends on its type. In some cases there is inadequate immunity because of the prematurity of the immune system. Such as a preterm baby or some one on medication that reduce immunity. In that case the immune system will improve as the child grows. However if the child has a primary immunodeficiency then treatment is different. They may need long term antibiotics or intravenous immunoglobulin (IVIG) given every month. When the deficiency is severe a bone marrow transplant maybe the only option.