About Allergic Rhinitis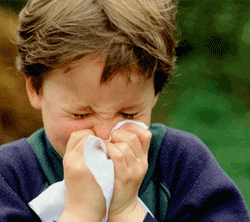 These are a collection of symptoms, mostly in the nose and eyes, which occur when you breathe in something you are allergic to, such as dust, dander, or pollen.
The symptoms maybe persistent or periodic. Symptoms are mostly caused by Histamine release.
Symptoms that occur shortly after you come into contact with the substance you are allergic to may include Itch (nose, mouth, eyes, throat or skin), runny nose, sneezing and watery eyes.
Left untreated after long time exposure you may develop nasal congestion, cough, ear pressure, sore throat, dark circles under the eyes, puffiness under the eyes, fatigue and irritability, headache, memory problems and slowed thinking.